In a warm and inclusive morning event on January 18th, 2023, the team at Dakota Dunes Community Development Corporation (DDCDC) shared their updates with community and organizations over snacks and coffee at Broadway Collective in their underground space.
The focus of the talk was the new application process for organizations that will become effective for the April 30th, 2023 intake. This new application will be used when they apply for the generous funding the DDCDC offers. Shirley Greyeyes, Director of the DDCDC, welcomed participants to the session outlining updates and changes within the new database. With screens visible to everyone, Dale from Beagle Productions took the participants through the new application, focusing on areas that have changed to make the database more functional and user-friendly.
Shirley identified areas that will halt the application. First, an organization is required to link its project and/or activity to at least one of the Calls to Action from the Truth and Reconciliation Commission (TRC). If the applicant is unable to do this, their application will be halted and the applicant will not be able to submit until they link one or more of the Calls to Action to their project and/or activity. There were printed copies of the TRC Calls to Action available during the session, they are accessible in the database through a drop-down menu and can be viewed here.
Secondly, the project and/or activity must start at least two months after the deadline date—if not, it will be halted until the dates are adjusted. It was recommended that organizations do a plan to ensure they meet this criteria and noted that DDCDC funds projects and/or activities, not ongoing programming.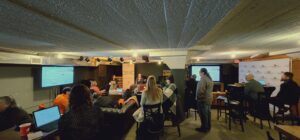 Thirdly, the maximum amount for each project and/or activity is $25,000 dollar. If the application asks for more than this amount, it will be halted and the organization will not be able to submit.  It was noted that organizations can apply for two or three different projects per intake, although no guarantee of funding was made. It was also noted that you may apply for future intakes as well.
The last note was that if your organization is new (i.e. not previously funded by DDCDC) you are required to have half the cost of the project and/or activity secured through other means of support.
The new application process for the April 30th, 2023 intake will open on February 6th. The upcoming intake of January 30th, 2023 will be processed through the current database and all reporting up to this intake will continue to be completed through this database. All historical data will be transferred to the new database so organizations can see what they have been funded for in the past.
There were murmurs of re-registering when you log in to the new portal, but the team was very reassuring and available to help at any step. This was mentioned several times—and it was wonderful to see how the team, including Verna, is so warm and helpful. If anyone has questions at any point during the change to the new process, they encourage you to reach out and ask. They love to hear what organizations are doing.
Dakota Dunes Community Development Corporation are a major funder of the work of charities and non-profits in our community and they make a difference with their support. Connect with them here if your organization wants to get to know their application process.